Building your digital publication is not an easy task, especially if you are targeting mobile users. A lot of factors determine success, and one of them is speed. A quick and fast, responsive website helps improve the reading experience of your readers. It also increases the average time spent on your publication.
One way to build a fast performing and responsive website for your digital publication is with Progressive Web App (PWA) technology. But, what is a Progressive Web App (PWA)?
What is a Progressive Web App (PWA)?

A Progressive Web Application, commonly referred to as Progressive Web App, or simply PWA, is an application software built using the usual web technologies such as HTML, CSS and JavaScript. It is created to work on any platform that uses a standard browser, including desktop and mobile devices.  
Progressive Web Apps are a type of web page known as a web application. It is built using service workers, manifest and other web platforms to give users an experience similar to a native app.
However, a PWA app does not require separate distribution; all can be done through the webpage. Developers can publish the progressive web app online and ensure it fills all the requirements to make it installable. Users will be able to install it on their preferred devices (mobile, desktop or tablet) directly from the webpage. Developers are not required to distribute their PWA App through digital app distribution such as Apple's App Store or Google's Play Store. This could help saving more cost from the expensive fees and commission to have your app registered there.
 

In a nutshell, Progressive Web App is a website on steroids. 
It is a website with the features and advantages of a Native App. They are built with the latest website technologies that feel like an app. Recent developments in browser and availability of service workers, including Cache and Push APIs, have allowed web developers to enable users to install the web app and add it to their home screen, receive push notifications and be accessed offline. 
By creating a digital publication powered by Progressive Web App, you will have the ability to build a powerful website that allows you to create a faster, more engaging experience. This will create a pleasant experience and will enable you to stay connected in the long term with your readers. 
How Progressive Web Apps can help your digital publishing business?
When it comes to readers, as we like to quote from Google, it is essential that publishers "focus on the readers and everything else will follow" 
Therefore, it is important to acknowledge how your readers behave. Based on our research, when it comes to websites and apps, some of the most common user behaviors are: 
PWA App has many advantages that you, as a publisher, can benefit from, as it is a web application built to be capable, reliable and installable. It is constructed and amplified with modern APIs that can reach anyone, anywhere, on any device using a single codebase.
Derived from the information above, we have summarized how Progressive Web App can fulfil what most common users (including your readers) need. 
PWA App is faster than a regular website

One of the fundamental aspects that make Progressive Web App's perform faster than a regular website is Service Workers. If a Service Worker is installed in the background, the website will be lightning-fast for your visitors. 
Lucky for you, service workers are a fundamental part of PWA's. The main reason it provides faster loading (whether you are online or offline) is its ability to cache data in the background as you interact with the site. Thus, allowing you to access the Progressive Web App offline, offer push notifications to your readers, and much more. 
Why speed is so important…
The performance of your digital publication will determine its success, as it will improve the online experience. High-performance websites can engage better with users and retain and maintain a good relationship with them, compared to poor performing websites.
Speed is the key to getting readers to use your app. According to web.dev, users' probability of leaving your websites increases by 123% when the page load times are 10 seconds. Readers should never wonder what happens after they click a button. Scrolling through your page and animation should feel buttery smooth. Your website's speed performance affects your reader's entire experience, from their perception of your app to how it performs. 
There are a few platforms that you can use to audit the performance of your website, such as Lighthouse. Scoring well on Lighthouse most likely indicates that your users have an enjoyable experience. Other than Lighthouse, you can also use GTMetrix, PageSpeed Insights or Chrome User Experience Report.
Progressive Web Apps are supported by many browsers
As PWA's are a combination of website and Native Apps, they have the superpowers of being accessible on any browser, and also installable on mobile devices. 
As of 2021, PWAs are supported by most mainstream browsers including Google Chrome, Safari, Microsoft Edge, and Firefox for Android but not by Firefox for desktop.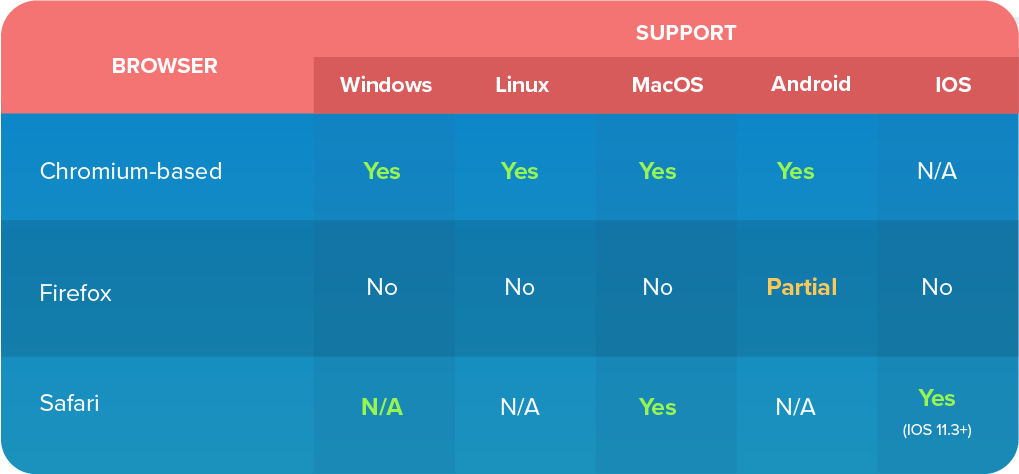 Source: Wikipedia
Responsive and adjustable to any screen size 
Having a responsive digital publication is very important to improve the reading experience of your readers. Suppose the publication is not able to adjust accordingly, your readers need to pinch to zoom in and out when they access your publication from mobile devices. This might interrupt their reading experience. 
Learn how MagLoft's Universal App feature can turn a clunky PDF reading experience into a smooth HTML reading experience
Your readers only need one finger to read your content by having your publication responsive. Nice and easy, right?
If you wonder why publishing your content in HTML is equally important as publishing it in PDF format, check out one of our blog posts here. We explain the differences between PDF and HTML in detail and how they can benefit your digital publication. 
Installable & Provides Offline Access
One of the perks of having your digital publication powered by PWA technology is that it can be installed on any device: mobile, tablet or computer. Progressive Web Apps have a look, feel and behavior similar to a native app. 
Did you know that readers who installed your publication on their mobile devices tend to open your publication more than those who do not?
This is because installing an app provides easy access and increases the engagement level between your publication and your readers, resulting in more visits, longer times on your publication and higher conversion rates. 
Readers expect installed apps to just work, whether it is online or offline. A native app never shows a blank page when it is offline, and a PWA App should never reveal the browser's default offline page. An offline digital publication should still be able to show content that was saved or browsed previously by the readers. All of this is possible with a digital publication powered by Progressive Web App technology.
Examples of Digital Publications Powered by Progressive Web App Technology
There are not many digital publishing solutions powered by Progressive Web App. MagLoft's Universal App is one of the first digital publishing solutions that help publishers take advantage of the many benefits Progressive Web Apps can offer
MagLofts Universal App gives readers the flexibility to access your content in both browsers and as an installed app. In addition to that, with one of MagLoft's features, the PDF Toggle View, your readers can enjoy reading your content in both PDF and converted HTML view, providing your readers with the best of both worlds.
The Mamelodi Sundowns Magazine
How Mamelodi Sundowns Magazine Universal App look like on desktop
The Mamelodi Sundowns Magazine is a digital publication dedicated to South Africa's professional football club with the same name. 
Sundowns FC needed a mobile-first solution with a smooth scrolling technology for their digital publication. Ensuring that it does not take a lot of data usage was also essential on their key to success. They do not want to lose 30% of their revenue to have their digital publication published on Play or App Store. Powered by Progressive Web App technology, MagLoft's Universal App was the best digital publishing solution for their needs.
Previously, Sundowns FC had its publication published on its website. We put both Sundowns FC main website and Universal App to test using GTMetrix, an audit platform used to examine how fast your website loads and site performance.
Sundowns Website Homepage vs Sundowns Universal App
Sundowns Website Article's page vs Sundowns Universal App Article
As you can see above, Sundowns FC Universal App brings better and faster performance than their main websites.
In addition, Sundowns FC's Universal App is accessible and installable via the browser. Readers only need to access their Universal App's domain https://magazine.sundownsfc.co.za/ and install it directly to their mobile. This has saved Sundowns FC 30%. 
With a better performance score from GTMetrix, the page will load faster creating a smooth reading experience for readers.
We have dedicated a page on how MagLoft's Universal App helped Sundowns FC conquer their challenges. Your publication might face similar challenges, and you might find the answer in MagLoft's Universal App. 
Universal App has also helped numerous publishers all around the world. Check out our testimonials page, where our publishers share their experiences about using MagLoft's Universal App, including access to their Universal App publications for you to check out.
Curious to try MagLoft's Universal App? 
Magloft's Universal App is an all-in-one digital publishing solution powered by Progressive Web App technology and trusted by many since 2013. 
MagLoft supports publishers all over the world create digital publications using the latest PWA technology which includes awesome features such as PDF to HTML conversion services, built-in analytics to help you create data-driven business decisions, and the ability to monetize your content through multi-tiered subscriptions, single issue purchases and more., 
Sign up for MagLoft's Universal App 14-day free trial!
Want to explore a little more about MagLoft Universal App before paying the full price; you can sign up for a 14-day free trial, and enjoy all the features of our digital publishing solutions.