Sending personal messages to your readers has never been this easy with our In-App Pages feature. At MagLoft, we are not only a digital publishing solution for you but we also want to help you to get more engagements from your readers using our services. That's why we launched this new feature called in-app pages!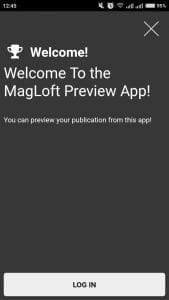 With this In-App Pages feature, sending your messages to your readers will be easier. You may be wondering what this In-Pages feature looks like. Basically, it's a page that can appear when your readers navigate through your app and can be triggered based on certain actions they take.
From the screenshot, you can see that you will be able to type your personal messages in that page. Did you know that sending personal messages is one of the ways to boost your marketing game? Nevertheless, sending personal messages can also be a little bit tricky. A Periscope survey reveals that only 40% of personalized messages actually feel personal. In other words, the other 60% of them failed in their mission to get more personal with their customers.
Knowing this fact gives you an advantage. You now realize that sending personal messages can't be done carelessly. The most important thing to note here is that you must understand your readers. By readers here, it means each reader individually, not just as in general. You might be wondering how to do it since it seems so difficult. One powerful way to do this is to target the right readers with the right message at the right time!
Moreover, you must be wondering why you need to do that. It's simple because we talk about sending personal messages. So, first, you should know whom you want to send those messages to. It will make you aim at the right target. Your messages won't be wasted. After you know who your readers are then you could plan your strategy, in this case, about sending personal messages and calls to action.

Our In-App Pages for Sending Personal Messages
What if I have already had an email marketing platform? That's great. Our In-App Pages feature here is created not to replace your email marketing. Even better, it could be working alongside with your email marketing. Email marketing is one of the most important steps of your digital marketing strategy. So, you need to keep doing it.
As for an example, you could try to send an email marketing to your readers who happen to be the potential subscribers of your magazine. That email marketing would be more effective if you also sent your persuasive messages using this In-App Pages feature. This feature also will allow you to add the subscribe button so all your readers have to do to subscribe is by clicking on that button.
Start Sending Personal Messages to Your Readers
Right now, your head must be crammed with questions. How come I add the subscribe button? Is it possible? What does it look like?
First thing first, let's begin with how to start sending personal messages using the In-App Pages feature. Three things you need to prepare are what trigger you want to use, what message you want to send, and what action you want them to do. These three things are a great kick off of using In-App Pages feature.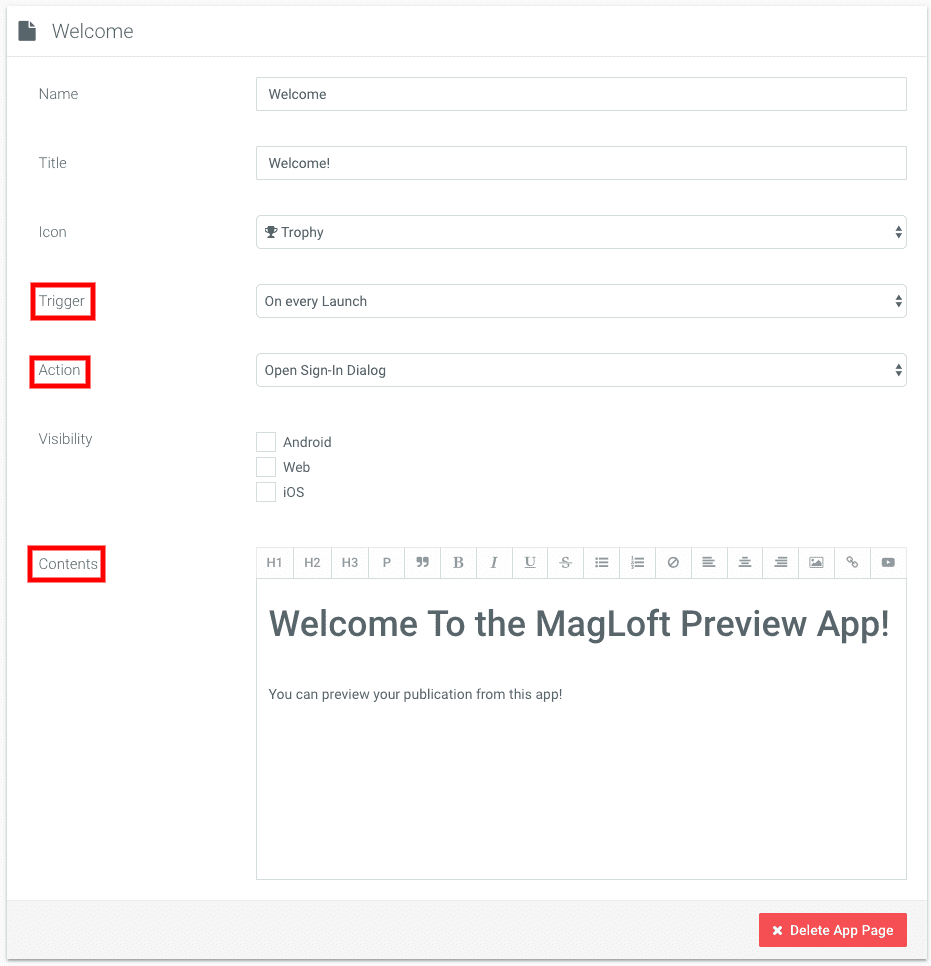 For the content, a welcome message from the screenshot above is only one example of many personal messages you are able to send to your readers. You truly can be sending personal messages as many as you want plus a lot of customizations.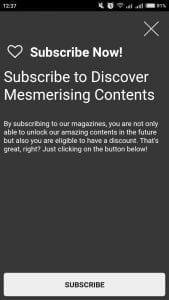 Aside from texts, you could add videos from Youtube to make your messages more creative. Adding external links to the messages is possible so you can direct your readers to other pages you want. Also, sending personal messages using pictures is not difficult anymore since we present you this In-App Pages feature.
For the trigger itself, you are free to choose from a range of predefined options. In a concise sentence, the trigger is when and where your page appears. The last but not least is the action. It is simply an additional button that appears at the bottom of the page. It also can be selected by you.


A Kick-Off of Creating Your In-App Pages
We know that you surely are very eager to hop on to try this In-App Pages feature live. However, if you are on our App, Mobile or Business plan, you could go directly to the portal and click on In-App Pages in your left-hand section. We have made a little guide here for you to try all things in this cutting-edge feature.
Important: this new feature may require that we update your apps, so please do reach out to us via our online chat to ask about this.
If you are not on our App, Mobile or Business plan yet, and interested in this new feature please do reach out to us. We are happy to answer any questions you may have. You can also login to your account and follow these steps for upgrading. You will of course get all the other benefits from the Professional and Premium plans as well.