Global online magazine readership is definitely growing, so if you've been thinking of publishing your own online magazine, this is the time to do so. When launching your magazine online, it's important to pick which digital publishing companies to be your partner. The right platform will help your publication grow. There are hundreds of options out there available, but don't feel overwhelmed just yet. We've made a list especially for you! Check out these online magazine makers that can help you launch your magazines.
Flipsnack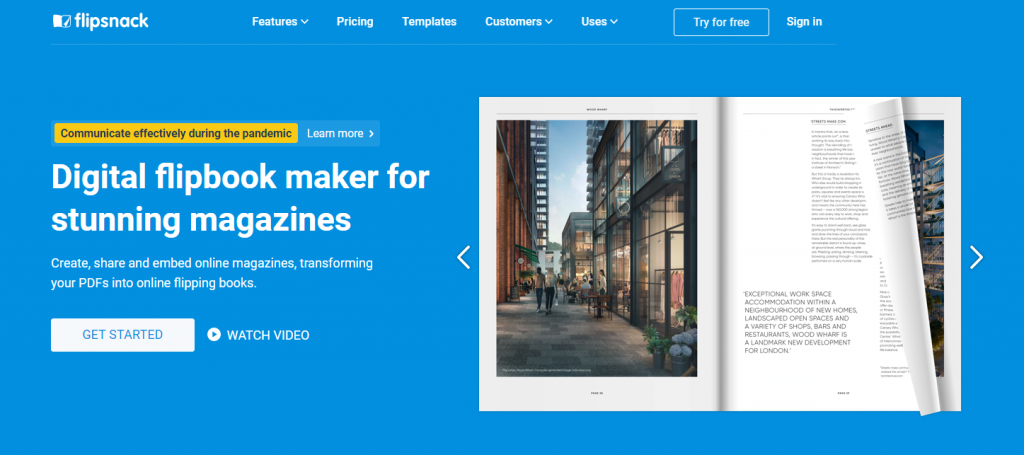 As the name suggests, Flipsnack is a digital flipbook maker for magazines. The process is very simple. You can either upload your existing PDF and they will turn it into an online magazine, or use their Page Flip software to create a new magazine from scratch. Their editor is intuitive drag-and-drop based, and is easy to use.
You can sign up and create an account for free with Flipsnack, but the features you unlock will be limited. 
At the moment, Flipsnack offers 3 paid plans, ranging from $14 to $79 per month. Their highest Business plan unlocks team management features, and you can also make your profile private to protect some documents from unwanted views.
You are able to sell subscriptions and single flipbooks in the Professional and Business plan with 0% fee.
Issuu

Issuu is probably one of the most popular options when it comes to online magazines, and it's most likely because they have a straightforward process.
All you have to do is upload your PDF, set a few customizations and then publish it as a flipbook.
The platform does a good job at delivering your content to other readers. If you want to get more readers, you may also enroll in their advertising program, to get your content in front of users of their platform.
They do have a free plan, and their paid plans range from $19 to $269 per month. You can get their digital sales feature on the Premium and Optimum plans.

Yumpu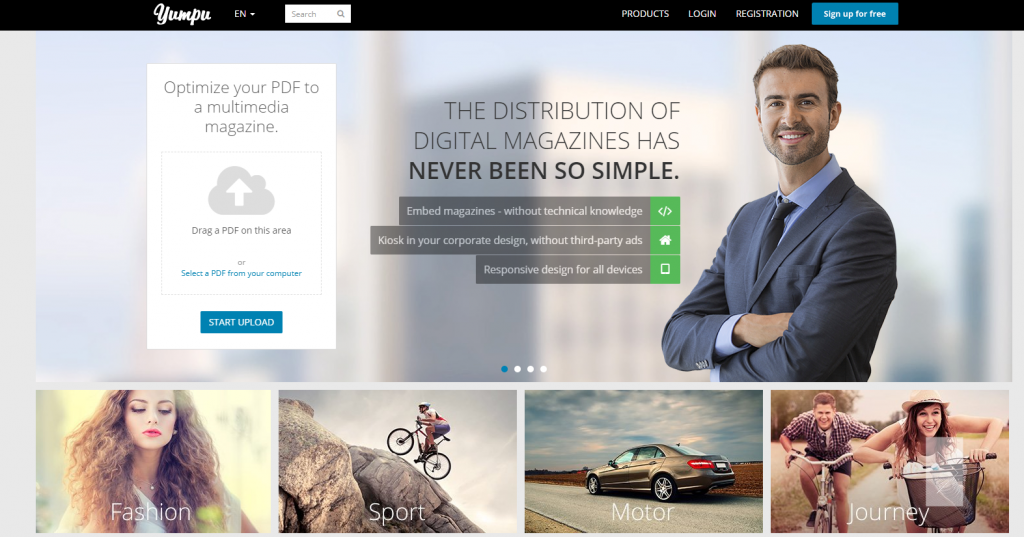 Yumpu offers 5 different plans, and the paid plans range from $19.95 to $339 per month. With the Free plan, you will still be able to access their Editor and some basic settings, which is not bad at all!
You won't be able to create your magazine from scratch, as their Editor is only for editing the issues you uploaded. But if you already have your own platform to create your issues, it shouldn't be a problem.
If you want to have an app for your magazine, you will need to be on their highest or second highest plan. Their highest plan offers both iOS and Android apps as well as In-App Purchase. While with the second highest plan, you have to choose between having an iOS or Android app, and there's no In-App Purchases feature.
With any of the paid plans, there will be no advertisements and your magazine will be optimized for search engines.
MagLoft

We might be biased, but we do believe that we offer the all-in-one solution that most publishers are looking for! MagLoft has 3 different pricing plans, starting from $199. You are, of course, welcome to create a free account with us and explore our tools and features.
There are no plan restrictions within MagLoft's drag-and-drop Editor, and on top of being able to upload your existing issues, you are also able to create an issue from scratch with the Editor! You are also able to create and upload as many magazine issues as you'd like.
All of MagLoft's pricing plans already include a fully-branded Web App feature. If you are just starting out, you can choose the App Publisher plan, which will get you the Web App + Android app. If you want for your magazine to be published on all platforms (Apple App Store, Google, Play Store, and Amazon Store), then you can get to either our Mobile or Business plan.
The app will be built and published using your own developer account, making it fully yours. MagLoft doesn't take any commission from your sales.
Which of these online magazine makers is the best for you?
With hundreds of online magazine makers available out there, picking out the right one obviously won't be easy. It will depend entirely on your current situation and how you see the publication growing. There are various aspects to consider: budget, content creation flow, size of the audience, web-only, or native app magazine. If you're still unsure, check out our blog post here and here to see why you should get an app!)
We hope this article helps you in your journey of finding 'the one' digital publishing partner! If you think that it might be us, please don't hesitate to reach out to us via live chat. You can also send us an email at support@magloft.com.