With Adobe pulling out support for independent publishers with their switch to the AEM ecosystem, there are a lot of disgruntled users out there looking for an Adobe DPS alternative.
Adobe not only offered a powerful workflow for publishers to quickly get mobile content published, they were pretty much the industry standard way of getting magazine apps published.
Now that those days are gone, the market is rife with alternatives. However, here are 10 reasons why MagLoft is the best  Adobe DPS alternative out there.
1) Don't Lose Your Familiar
Workflow
If you're used to working with Adobe InDesign, which a lot of magazine designers are, then there's absolutely no reason to change that.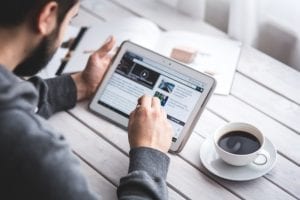 We've covered in detail how to export an HPUB file from InDesign using the in5 plugin. Once you have that HPUB file, all you have to do is upload the HPUB file to MagLoft.
2)
HTML

Based Drag n Drop Visual Magazine Builder

The MagLoft editor (TypeLoft) is a state of the art visual designer, where you can go from empty page to finished issue in a matter of minutes. We have several layouts to choose from as templates, or you could start from scratch.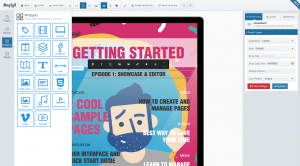 If you don't have the time to use something as thorough as InDesign, the TypeLoft editor is an equally effective alternative to help you build your magazine apps.
You don't need any coding or design experience either. If you can drag and drop, you can publish with MagLoft.
3) Responsive Content!
This is one of the things we've been most proud of since the beginning. A lot of platforms out there don't actually create truly responsive content, and we all know why PDF magazines can be a bad reading experience.
MagLoft magazine apps are based entirely on HTML and designed such that the content is 'reflowable'', and adapts to the screen size of your reader.
That's an extremely crucial feature for a mobile-first world because the last thing you want is your readers to have a bad experience if they try to read your magazine in a smartphone or tablet.
4) Hold Onto Your Existing Readers
We all know how much hard work it is to publish and publicize your magazines, attract your readers over time, and retain them. And we at MagLoft definitely don't want all that work of yours to go to waste.
Using our custom subscribers feature, you can take your existing list of readers and simply add them as your subscribers in MagLoft's dashboard. That way you get to preserve your entire list while making it possible for new readers to sign up instantly too.
5) Best Pricing For An Adobe
DPS

 Alternative

MagLoft plans start from just $199/month. While you get added features like a white-label platform for our bigger plans, our base plans are already incredibly feature-packed.

To start with, you get all the features mentioned in this article. Most importantly though, you get 3 solid channels of distribution – fully branded native Android, iOS, and web apps.

That means all our plans allow you to build content as you see fit (using the TypeLoft editor or uploading existing content), build 3 different native apps, engage your customers with advanced features like push notifications, see advanced analytics, and much much more.

In short, MagLoft is a one stop Adobe DPS alternative. MagLoft is an all in one service provider for your digital magazine app publishing needs, from production to distribution and beyond.

6) Native
Apps

Built By Us

We already mentioned that we take your content and turn it into 3 branded native apps. It's worth mentioning again that we take care of all the possible aspects involved in building mobile apps, including but not limited to certificates, app builds, updates, store listings, etc. all the way up to actually submitting the apps for approval and subsequent listing in the app stores.

We want you to focus 100% on your content, and not worry about anything else. As long as you have a great issue ready to be published for your readers, you can leave the rest of the logistical stuff to us.

Which brings us to our next point…
7) Amazing Customer Support
We got to where we are in the digital publishing market for just one reason (if we may say so ourselves): by keeping all our attention focussed on our customers. But don't take our word for it, just read our customer testimonials to convince yourself. All our customers are not only satisfied, they never fail to mention our customer support specifically.
We bend over backward to make sure that every single issue you might face over the course of publishing your digital magazine is dealt with swiftly and effectively.
8) Easily Convert Back Issues
Like we said earlier in the context of your subscriber list, we don't want you to lose any of the hard work you put into building your magazines before you join us at MagLoft. It's very important to give new subscribers access to past issues, as it creates a sense of continuity, and also ensures that your readers don't run out of content to view.
Converting your back issues and making them available in the apps that we build for you is very straightforward. The easiest way to do it is to simply upload PDF copies of them. On the other hand, if they contain interactive elements and you want to preserve those, you can use the in5 plugin to export HPUBs from Adobe InDesign and upload them to MagLoft.
9) Adobe
DPS

 Alternative With No Hidden Costs

In fact, let's rephrase that…there are no usage-based hidden costs whatsoever. Regardless of what you want to do, you will always know exactly how much you're paying because it'll all be included in the flat monthly subscription fee you pay.

While the exact features you get access to will depend on the plan (they all include unlimited downloads, issues, and storage), if there's a specific part of the plan that you want to customize, just get in touch with us and we'll be happy to help.
10) Publish In Your Own Developer Accounts
Customers remain 100% control of their app, brand, pricing, and revenue. This is CRUCIAL if they are wanting to offer a paid subscription as Apple will LOCK IN the app to the developer account and it can't be transferred or updated to another account/provider.
Sign Up For A Free
MagLoft

Account Now!

It's 100% free to sign up for a MagLoft account. Check out the dashboard, try uploading some content or building a magazine using TypeLoft, and if you like what you see (and we know you will), subscribe to one of our monthly plans.

We only ask for your money once you're ready to publish. We believe in our product and team so much that every plan comes with a 30 day 100% money-back guarantee. If you don't like our product for some reason, while we'll be sad to let you go, you'll get your full money back, no questions asked.

So if you're looking for an Adobe DPS alternative (or just for the right digital publishing solution) sign up for your free account now!