Turn Your Traffic Into Engaged Readers
Empowering publishers to engage readers, capture audiences, and convert traffic into loyal subscribers through innovative engagement services.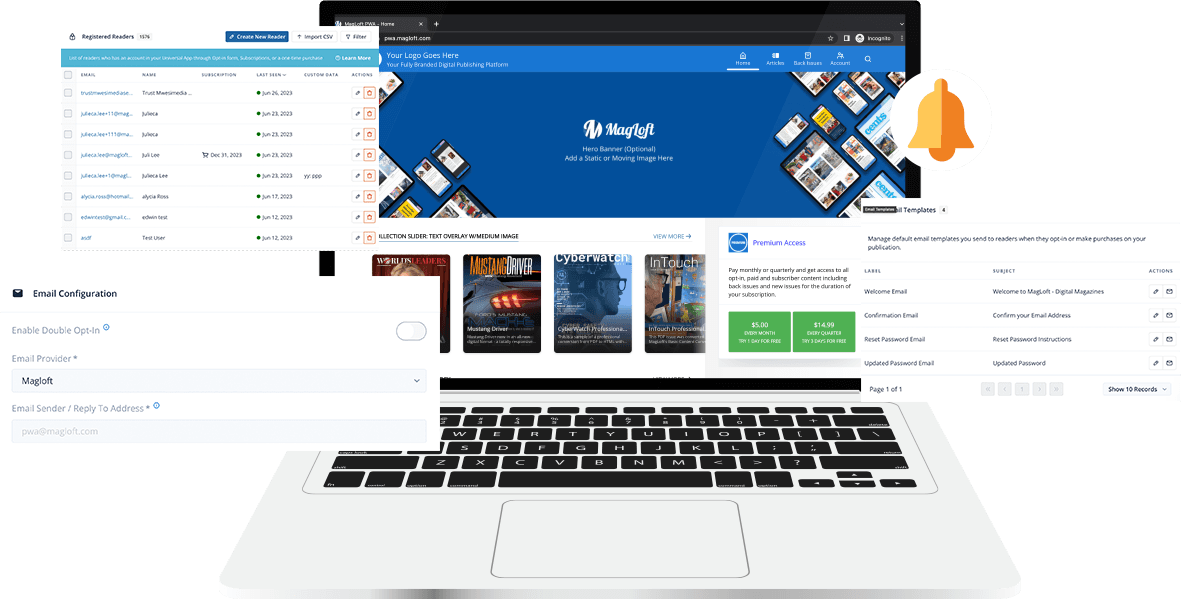 Creating impactful content is only half the battle. What truly sets successful publishers apart is their ability to draw readers back, convert passive observers into engaged audiences, and, ultimately, build a loyal community around their content.
At MagLoft, we don't just provide cutting-edge digital publishing software. We partner with you to amplify your reach, boost engagement, and accelerate conversions. As your personal team of experts, we commit ourselves to understanding your needs and helping you achieve your desired outcomes.
Manual Push Notifications
Your audience is diverse, and your notifications should be too. Our Manual Push Notifications service helps you build segmented audiences and deliver personalized, instant browser push notifications. This will keep your readership engaged and encourage them to return to your website.
Automated Push Notifications
Our Automated Push Notifications service lets you set up notifications based on predetermined times or triggers, enabling seamless engagement, even when you're away from your desk.
Email Conversions
Turn casual browsers into dedicated subscribers. Our email conversion optimization equips you with efficient funnel pages and opt-in forms, helping you convert website traffic into a valuable email database for personalized follow-ups.
Marketing Automation Integration
We'll help you connect with automated systems and navigate data transfers between multiple tools to ensure smooth and effective communication with your audience.
Audience Building
With our audience-building service, we leverage the power of Google Ads and Facebook to identify and track visitors interacting with your content. Using events and triggers, such as completing a form or time spent on a specific page, we help you build segmented audiences based on user behavior and engagement.
Retargeting Campaigns
With your custom digital publishing solution, you can create retargeting campaigns on Facebook, YouTube and Google. This will enable you to create targeted advertising campaigns for the audiences you have built based on what readers do or don't do when using your publishing solutions.
At MagLoft, we believe in making your digital publishing journey a collaborative, rewarding experience. We don't just provide solutions; we forge partnerships, build communities, and foster growth.
Would you like to talk to us?
If you're interested in going digital but have questions on what, when, and how? Book a free consultation with one of our experts who will help you get started.