On Monday, September 16, 2019, MagLoft is launching a new change to the MagLoft digital publishing portal which will affect all current users. In short, we are introducing a new 30-day free trial mechanism, which will lock and unlock features based on your trial status.
Up until this point, we have always allowed people to register for a free MagLoft account and get full access to all features. The only thing a user can't do with a free account is to publish apps live. We have received a lot of great feedback from users who really appreciate the flexibility a setup like this offers. They don't feel stressed or pressured into taking a paid subscription until they are all set up and ready to publish live. We totally support that view and will continue to do so.
Why Is MagLoft Launching a Free Trial?

We feel like the free account today leaves a lot of people with no urgency to dig a little deeper into what MagLoft offers. We see many users that signup for a free account, reach the dashboard and then not really know what to do next. Our latest dashboard change with tutorial guides is an attempt to give better guidance after the initial registration. This has certainly improved and now we are experimenting to see if a limited-time trial option will help new users with a gentle nudge in the right direction.
Additionally, when you come on board as a new user and have access to all features and tools, it can be very difficult to understand what would be available on a given paid plan. I personally remember trialing the HubSpot system where they had given us enterprise access to all features. It was so difficult to figure out what we would have access to depending on the various paid plan options.
So, in short, we are hoping that introducing a 30-day free trial will have the following positive effects:
New users will feel a slight urgency and explore more of MagLoft on their first visits.
New users will want to reach out to our Customer Success team more to better understand how MagLoft works.
It will be more clear to users which features are part of each paid plan.
We will be ab le to increase the engagement and retention of users in the first 30 days.
What Exactly Will Change And Are You Affected?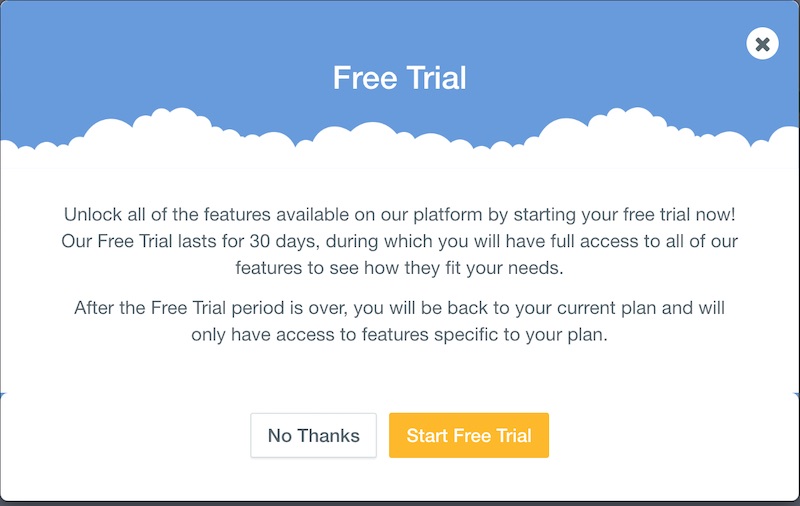 When the 30-day free trial is launched, a couple of things will happen which will affect most users.
New Free MagLoft Users
Once the free trial is launched, new users will not have an option to start the trial, as it will start automatically. They will have access to all features so they can explore and try them all out. When the free trial expires, these features will be locked and only free features will be available.
Existing Free MagLoft Users
When you log in, you will be prompted with a message that asks whether you want to start the 30-day free trial or not. If you start the trial, you will get access to all features for 30 days. If you decline the trial, all but free features will be locked down. You can start the free trial anytime from the top menu bar. When the free trial expires, the premium features will lock again unless you take a paid subscription.
Web App Subscribers
Next time you log in, you will have access to all the features that come with your paid Web App plan. Features on higher plans will be locked for you. Many of these locked features are also for mobile apps only, so it won't make any difference to your plan.
Mobile App subscribers
You will most likely not see any difference in your account, as you already have access to most premium features. You may or may not have access to some features depending on when you subscribed to your Mobile App plan.
Business Subscribers
Nothing will change for you, as you already have access to everything MagLoft offers and then some.

Users Now Get 60-Day Zero Risk Full Access to MagLoft
If you take the new 30-day free trial and add our 30-day 100% money-back guarantee, you now get 60 days of full access with zero risks.
We really love the idea of allowing MagLoft users to explore features and take their time to fully understand and get set up before they are required to pay. We do not want to restrict this idea, but rather motivate more people to get a chance to experience the full power of MagLoft.
If you find yourself in a situation where you need more time to get set up no problem! Just reach out to our Customer Success team and they can help you. We love to hear from users and help them as much as we can.
Have Questions? Please Reach Out To Us Today
We have made a lot of changes to our plans and pricing over the years and the current plans consolidate a lot of older plans. Reach out to us if you feel something has been blocked in error or if you have any other questions.
Screenshots From Testing 30 Day Free Trial
Below are a series of screenshots that we have taken during testing of the free trial. This should give you an idea of how the free trial will look like once launched.