It is a known fact that customers are the most important assets of any businesses. No matter what kind of company you're running, your growth strategies must have your customer's interest at the center of it. And one of the most important focus is customer engagement.
As MagLoft strives to be the best digital publishing partner, of course, we would always take this into consideration whenever we want to add a new feature to our platform. Especially with digital publications and magazines, sometimes it's the little things that hold your readers' attention the most. And we surely hope that our latest Articles feature will do just that!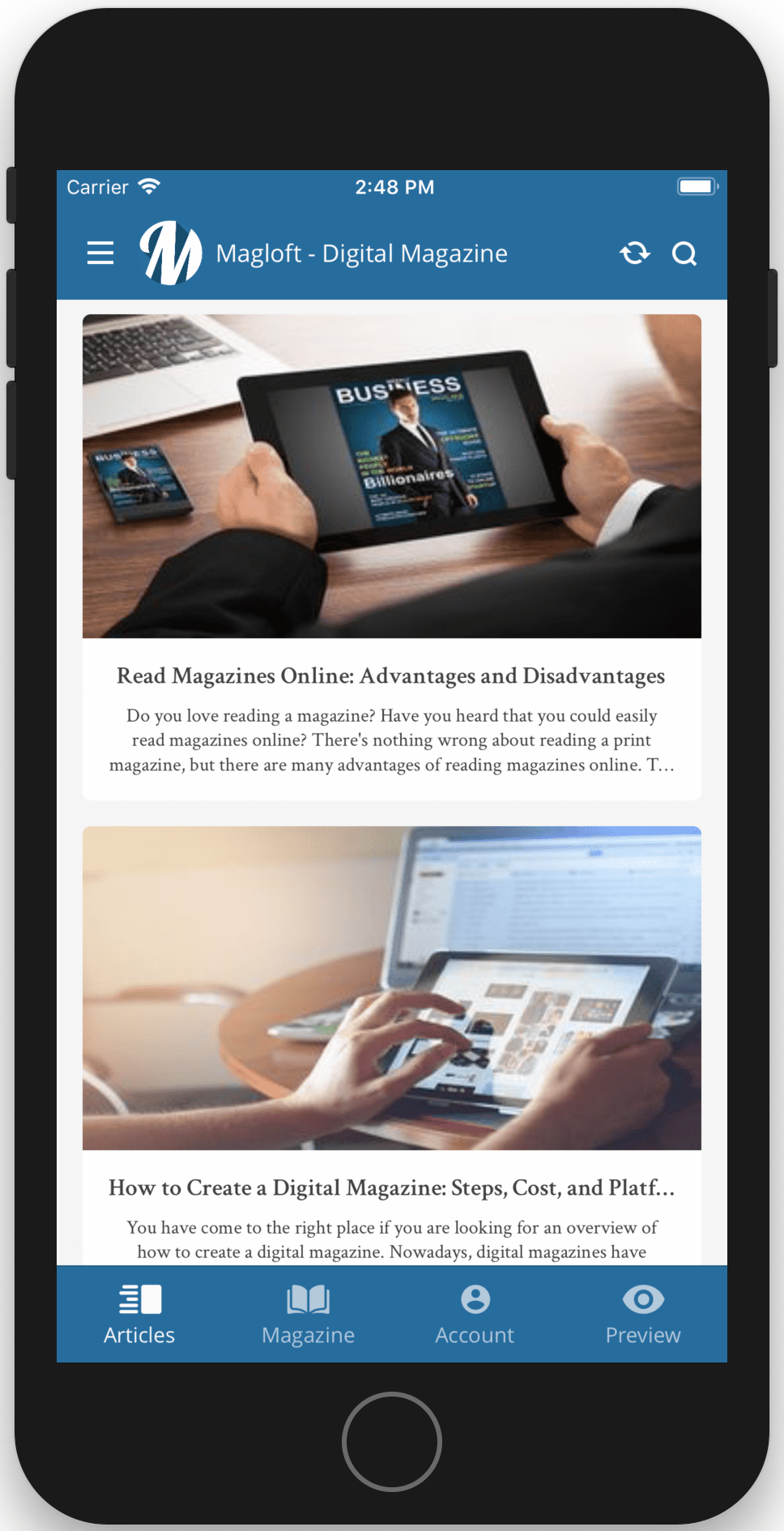 What Is MagLoft's Articles Feature?
The Articles feature is quite simple and self-explanatory. It is a feature that allows publishers to post shorter articles in their app, in addition to their regularly published issues.
Why Should I Consider Using This?
One of the biggest challenges for magazines, I think, is how you can convince your readers that they have time to read the magazine. Or at least convince them that your magazine issue is worth the time they will spend reading before they actually start reading it. And this is especially harder for digital magazines and publications, considering there are so many other distractions and priorities on the internet.
Of course one of the solutions for that is to produce quality content. But a standard, full magazine issue can take about 45 minutes an hour to finish. Yet, in 2018, the average US consumer only spends about 15 minutes reading a magazine on a daily basis. Most publishers will argue that that is not enough, especially if you publish your issues on a longer period (monthly, quarterly).
How Does This Help Me With My Customer Engagement?

With the Articles feature, you are now able to publish shorter articles instead of a full issue. Shorter content takes less time and resources to produce, which means that your magazine can roll these articles out a lot more often than you do your issues. This will make you have more content to offer on a regular basis, which will at least grab your reader's attention more to your magazine.
Having shorter content also means that there's a higher chance of customer engagement. Not a lot of people can spare the time to sit and read a full magazine, but most people will definitely have 5 minutes to read an interesting article. Reading a short article can be done while commuting, doing errands, or even while taking a break at work.
Also, if your readers have spent more time reading your articles, they will be more inclined to spend time to read when you roll out a full issue.
In addition to that, being able to publish more frequently will also allow you to send more push notifications and get your readers back into your apps. Here they will again be exposed to your in-app pages, offers, premium content, and subscriptions.
But don't just take our word for it, try and see for yourself! Log in to your MagLoft Universal App right now and start creating those articles!
How Does It Work?
There are two ways to create an Article in MagLoft portal. First, you can actually create the article from scratch using our TypeLoft editor. If you are already creating your issues using our TypeLoft editor, then the process will be very similar.
You can also import your RSS feeds for the Articles. Yes, you read that right. After importing the feed, the articles list will show up on your MagLoft portal, and you will be able to edit the article using our editor.
Questions?
Don't hesitate to explore our blog to see more tips on how to increase your customer engagement.
If you need help, please check out our help center and our YouTube channel. We have some helpful articles and videos regarding our features and service that you might find useful. If you are unable to find what you were looking for, please don't hesitate to reach out to us via live chat (should be available on the bottom right part of your page) or shoot us an email at support@magloft.com.
(P.S: We have some more exciting updates to share with you guys so stay tuned! 😉 )