Say goodbye to the old, boring email template! Here at MagLoft we love being able to customize things. Introducing our latest feature to boost your branding: custom email templates. Now you can customize emails that are sent to your readers from MagLoft. Take advantage of this feature and fully customize the design and contents of the email to match your brand!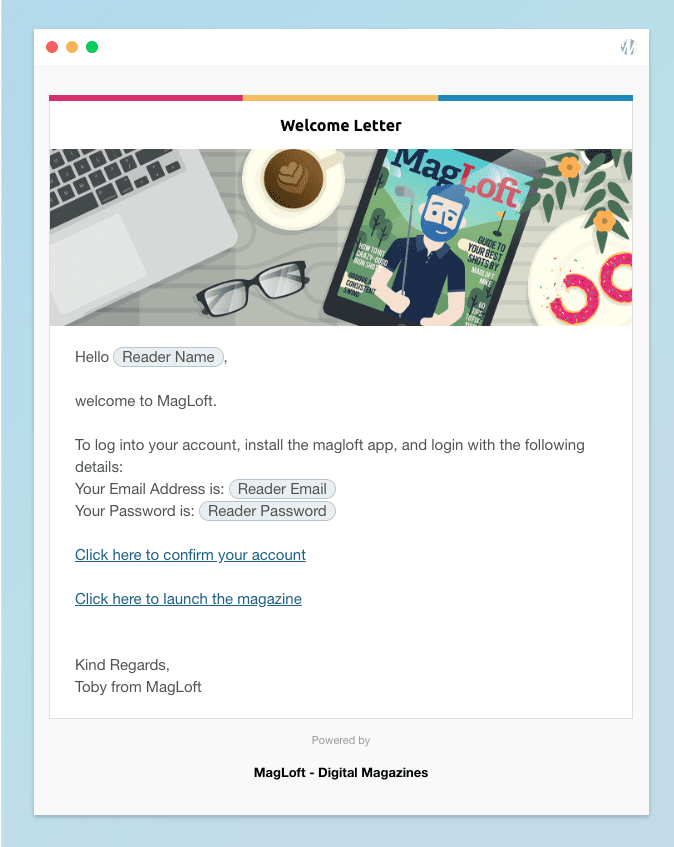 You can create up to 3 different email templates to address different needs for your readers. In each template, you will be able to do various things: edit the banner image, add additional images to the email body, add variables, and even change the footer. This feature also supports custom HTML if you would like to take it to the next level!
Why Use Custom Email Templates?
First of all, packaging (or rather in this case, design) matters. According to Adobe, when given 15 minutes to consume content, 59% of global consumers prefer to see something beautifully designed rather than something plain. By customizing your email templates, you can elevate your readers' engagement and interest on your brand as a whole.
By using custom email templates, you will also have the ability to personalize your message. You can use your own language instead of a very generic robotic message. By doing this, your brand will have more personality when reaching out to your readers.
Now you may be wondering, what happens when you use the Confirmation URL variable? Where will it take your readers? If you are currently using your own URL for the Web App (check out our article here to learn how), the confirmation link will take your readers to your own domain instead of our default Web-App domain (magloft.com/app/examplemagazine).

As for the email sending service, we are using a service called Mailgun so it's already taken care of. However, if you would like to use your own email delivery service, that can also be done. It's not something we have on our portal, so you will need to get in touch with us and provide us with your email credentials and we will work on the custom configuration to make it happen!
Our email template is also responsive, and you can check how it looks on various devices to make sure that they look good across the board. This will definitely help with engagement as well due to the fact that 80% of people will delete email immediately if it doesn't look good on their device.
How To Access Email Templates Feature
This feature is currently available for all our Business clients and can be easily accessed from the Feature section on the left side of your portal page.
Need Help?
Check out our help center here, we have some help articles regarding our features and service that might help you! If you are unable to find what you were looking for, don't hesitate to reach out to us via live chat (should be available on the right bottom part of your page) or shoot us an email at support@magloft.com 🙂