We have seen an increase in demand for services and help to convert PDF content to mobile-first or responsive content in the last few months. So if you are also searching for options to convert your PDF files and content to HTML which looks and reads great on any device size and orientation, then you have come to the right place!
Here at MagLoft we have been offering a service to manually convert PDF to responsive HTML which can be used in our visual drag and drop editor TypeLoft. This is a service we are happy to offer and without a doubt gives you the best results. That's because our design team manually reconstructs your PDF content in our editor.
We encourage you to reach out to us if you are interested in learning more about our manual conversion process. Here is a link to a video that shows a client's PDF compared to the converted HTML results.
Our manual conversion process delivers the best results but can take some time and resources. So the MagLoft team decided a few months back to look into alternative options for our publishers that don't have a budget for manual conversions.
Introducing FlexPDF to Convert PDF to HTML
With FlexPDF you can quickly convert your PDF content into content that can be loaded in TypeLoft. The content is responsive and allows you to realign, create collapsable columns, and add interactivity to your content. Best of all, your content will now look and read great on any device! No more pinch to zoom and hard to read PDF content on mobile devices!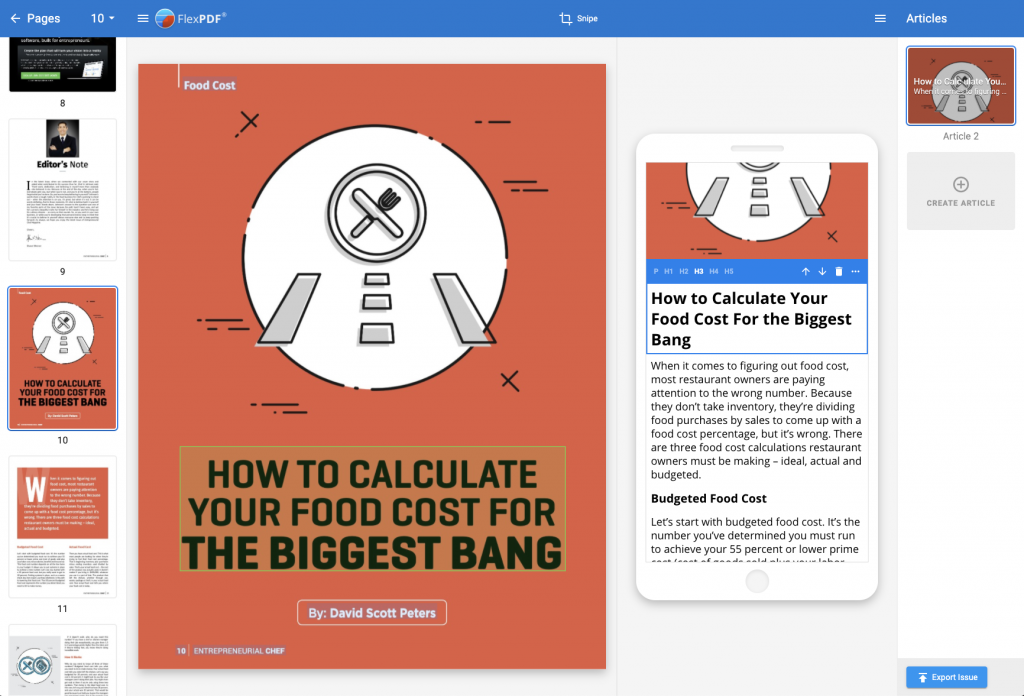 All you have to do to use FlexPDF is to add your PDF, then click on the images, headings, paragraphs, and more to instantly convert them to a mobile view! FlexPDF will greatly improve the time it takes publishers to recreate their PDF content into a responsive mobile-first format. You will be able to combine several classic PDF pages into a scrollable article page that most users are now used to from Facebook, Twitter, and Instagram apps.
Once you have finished running through your PDF file and converted it into responsive HTML articles, you can then export it to your MagLoft account! The exported format will be TypeLoft2 format, which means you can open this new issue in our TypeLoft editor for post-processing.
From TypeLoft the sky is the limit in regards to what you can do with your content. You can add audio, video, sliders, parallax, fade-in and fade-our effects, and more. You can really make your old PDF content come to life by using FlexPDF to quickly convert it to HTML and then use TypeLoft to add interactive elements to it.
FlexPDF a Credit Based Software to Convert PDF to HTML
With FlexPDF, you can convert up to 100 pages without the need to create a free account.
To convert more pages, you can easily create a free account, confirm your email, and access the full range of features that FlexPDF offers.
Unlike other PDF to HTML conversion tools, FlexPDF provides responsive, interactive, customizable, and multiple shareable options for different devices.
Signing up for a free account will give you unlimited conversion pages and more ways to share your HTML content. You can share your HTML content using a link, import it onto your website, or use an embed code.

Converting PDF to HTML is Not Easy!
There will be some bugs and edge cases that still need to be improved. FlexPDF isn't perfect but we have dedicated the majority of our resources to improve it over the next few weeks.
Converting PDF to HTML is actually really hard. That's because there is no data or information about the PDF content. From a software perspective, when we attempt to read/deconstruct a PDF, we are not presented with "this is a heading 2" and "this is a paragraph" or "this image goes with this text". We need to come up with algorithms (mini-programs) that figure these things out.
As an example, to determine what is paragraphs in a PDF, we create algorithms that run through all the text in a PDF. These algorithms will compare text sizes and line-height, and based on that determine which text lines go together to form paragraphs. So perhaps you can imagine with all the different writing styles out there, it's hard to come up with algorithms that are perfect from day one.
Ready to Try FlexPDF Today?
We are very proud to release FlexPDF to our MagLoft publishers and we can't wait to hear what you think.
Please do let us know what you think and where we should focus on the next round of improvements. The ultimate goal is to deliver a piece of software that will help you quickly and easily convert your PDF content into a responsive and interactive HTML format you can use anywhere.
How are we doing so far? Please let us know via our live website chat or email.