If you are new in the digital publishing industry, don't worry. This article will provide important information to boost your SEO for Universal App (UA).
One of the perks of having your content built using HTML is the ability to have it crawled by search engines, such as Google.
Discover helpful hints for boosting your SEO score on the Universal App admin, located at the bottom of the edit pages for articles and collections.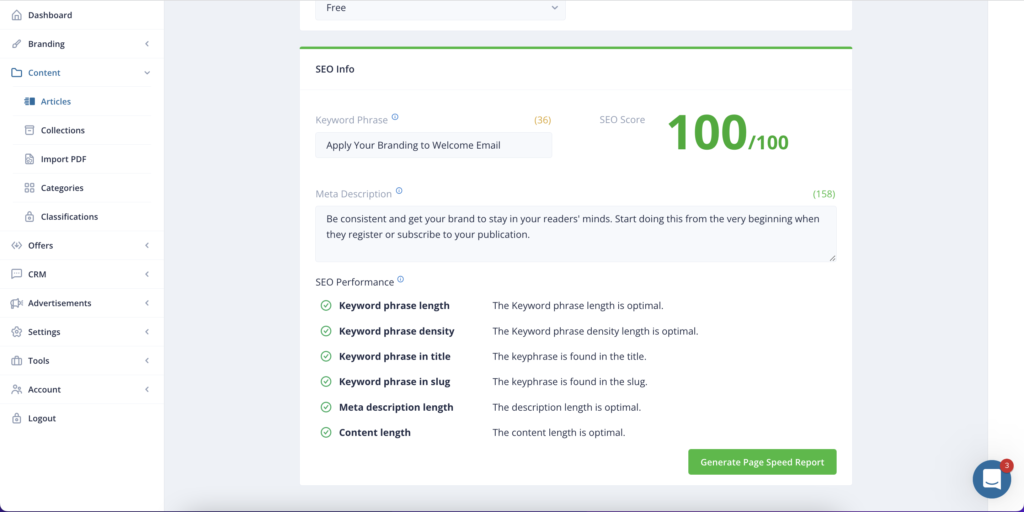 There are numerous factors played on helping you to achieve a good SEO score for Universal App's content. This article will highlight the five most important requirements to help you achieve a great SEO score for your content.
Keyword phrase
Preferably between 4 to 6 words.
There are two main approaches to choosing a keyphrase for your content: (1) short, generic keywords that get a lot of search traffic but also have a lot of competition, or (2) longer, more specific keyphrases (also called long-tail keyphrases) that get less search traffic but have a higher conversion value because they are more specific and focused on a particular product or topic. It can be harder to optimize your content for longer keyphrases because you need to repeatedly use many words close together, making your copy harder to read.
The optimum number of a keyword phrase is four words, and the maximum is six words. If you use keywords that are too long it can negatively impact the readability of your content. For example, frequently using phrases like "easy guide to increase seo score" throughout your copy, even if the words aren't in the same order, can make your text sound unnatural.
Page Title
Keep it between 30 – 60 characters.
The title tag is a crucial element of SEO, as it is the first thing users see in the search results and it also plays a significant role in determining a page's topic for Google. When you search for something on a search engine, the list of results appears in the form of snippets. The part that appears like a headline is the page title, which typically includes the post title but can also have additional elements like the site name.
Don't confuse this with Headings 1 of your content piece. Page title is shown on search engine and your browser tab, while headings 1 is part of your content's body part.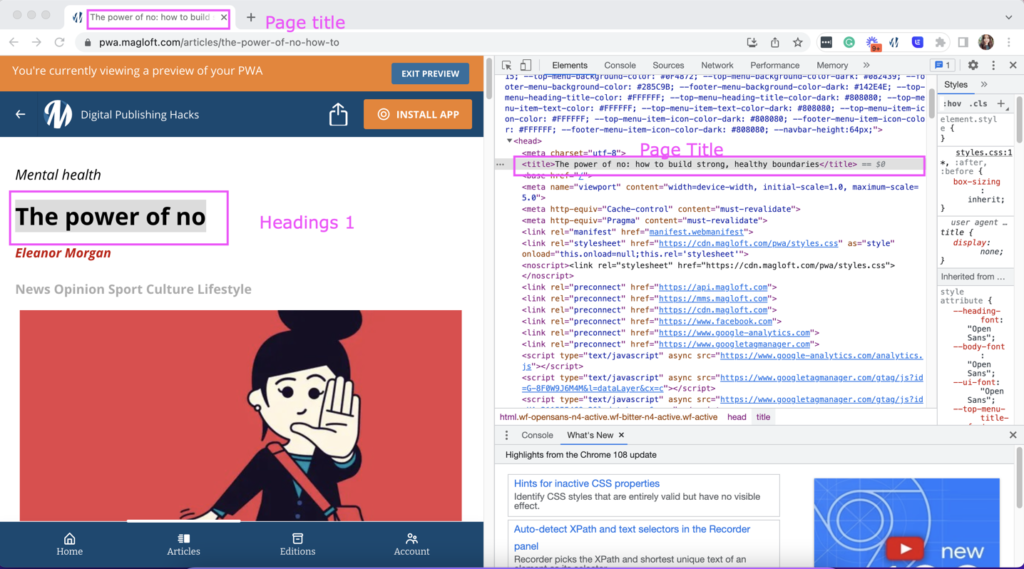 How page title is shown on HTML code
You can adjust the page title of your collection and articles on your UA Admin. Go to:
Content > Collection / Article
Choose the content you would like to adjust
Click the edit (pencil) button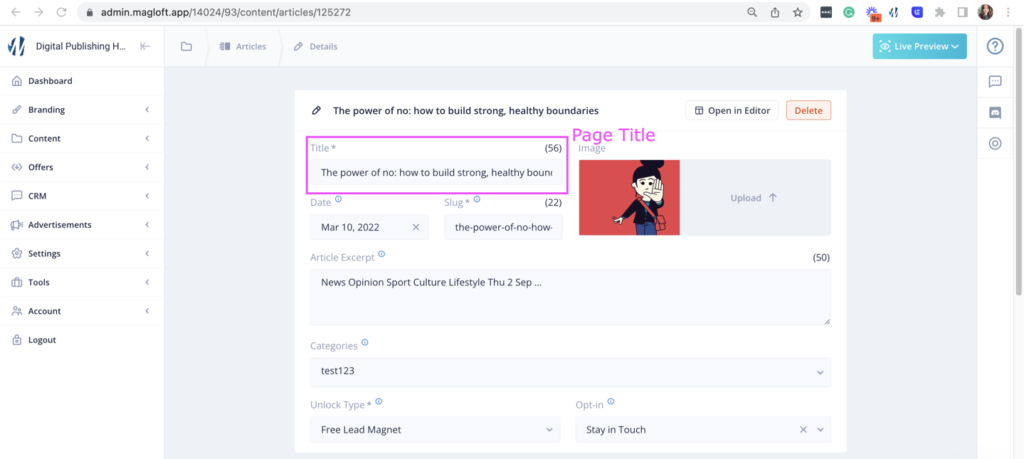 Where to find page title in UA Admin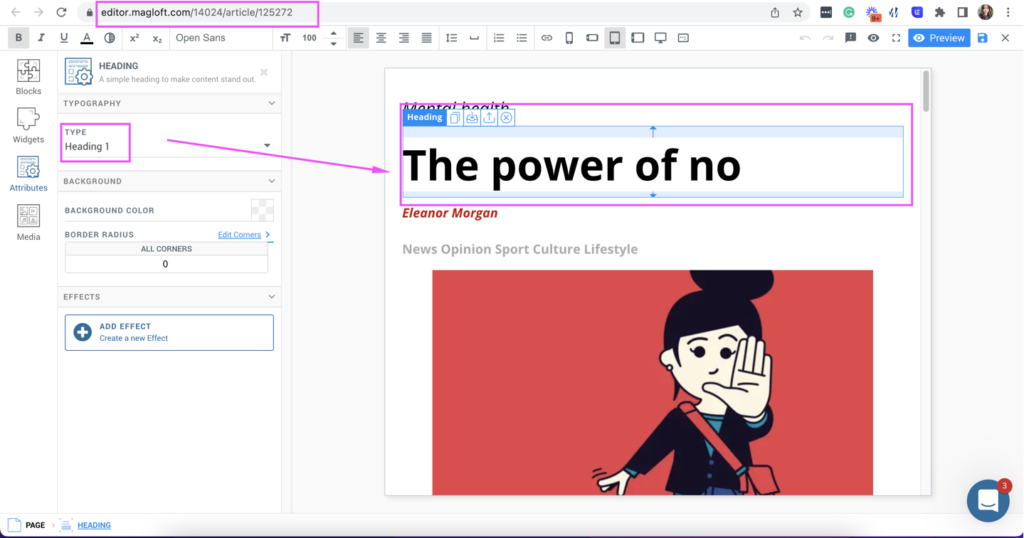 Where to find Headings 1 in Universal App (Typeloft)
The length of your page title can impact how it appears in Google's search results, as some parts may be cut off depending on the device used. 
An example of an excessively lengthy page title
The main purpose of the page title is to make users click on it. Google uses various signals to determine how relevant a webpage is for a specific keyword. 
Keep in mind that although there is no set character limit, the visibility of your page title in search results is limited. Excessively long page titles may be truncated by Google, potentially affecting the appearance of your title in search results.
To make the most of what available and to avoid truncation, it's recommended to keep the length of the page title between 30 and 60 characters as a general rule of thumb.
Content length
We advise writing more than 300 words for regular posts or pages. 
A higher word count helps Google better understand what your text is about. And, generally speaking, Google tends to rank longer articles higher.
Creating long, well-written blog posts of 1000 words or more increases the likelihood of your post ranking on Google
Google can better understand the topic of your content when it's longer. When you optimize your text naturally, it will include the focus keyphrase in a way that fits the context of your text. 
The length of your text allows you to include synonyms and related keyphrases and use more headings, links and images that also mention the keyphrase. Longer content can provide more in-depth, relevant and high-quality information. However, it's important to keep in mind that having longer text is not an excuse to stuff your content with keywords.
Keywords phrase density
Keep it between 0.5% to 3% of your total words.
Keyphrase density refers to the frequency at which your focus keyphrase appears in relation to the total number of words on the page. For example, if your text is 100 words and your focus keyphrase appears 5 times, the keyphrase density would be 5%. This metric is important for SEO, as it helps Google understand the topic of the page, so it can match it to the user's search query. However, it's crucial to ensure that the keyphrase density is not too high as it can make the content unappealing to readers and should be avoided.
The density depends on how long your keyphrase is. Preferably between 0.5 and 3% of your total words.
Some of the tips to make sure that your keywords is detected within your content:
First, ensure your full focus keyphrase is within one sentence or it won't count.
Check your spelling, and limit typos.
Some non-latin, non-ideograph-based languages may not calculate accurately
If your key phrase density is too high, make better use of synonyms.
Meta description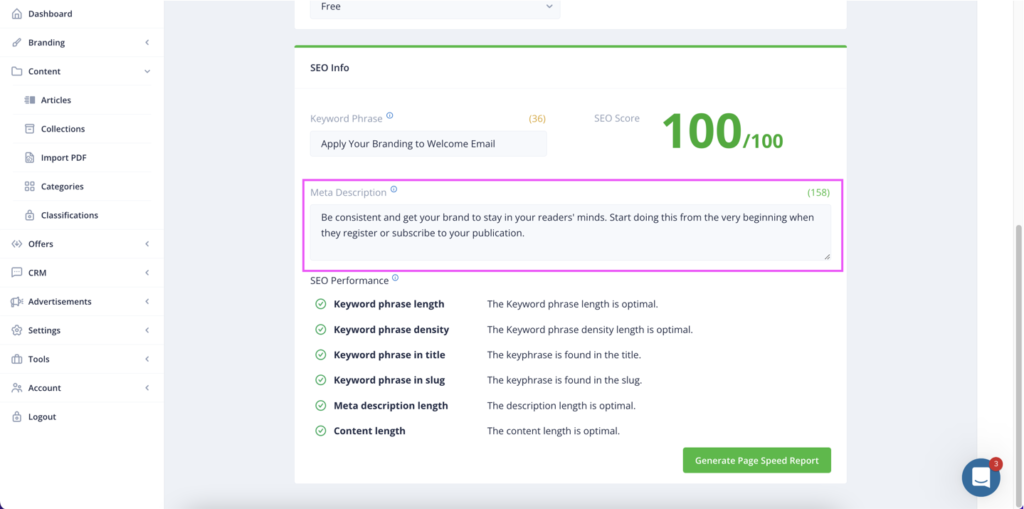 If you want Google to show the full meta description, keep it between 120 – 156 characters.
The meta description is a brief summary of the page's content that is shown in search results and plays a role in SEO by increasing click-through rate. 
A meta description length of 120 to 156 characters is likely to be fully displayed by Google. Additionally, when the search keyword appears in the meta description, Google will be more likely to use it and emphasize it in the search results, making your link more attractive. Google may even highlight synonyms on the meta description.
To Conclude..
In conclusion, SEO may seem daunting at first, but by following a few simple steps and being consistent with your efforts, you can greatly incfrease your Universal App's visibility and drive more traffic aswell. Remember to conduct keyword research, optimize your website's structure and content, and build high-quality backlinks. With a little patience and persistence, you'll be well on your way to mastering the basics of SEO.